COMPANY INFORMATION
Fountain Ceramic Mural (DREAMAGE)TM has been the leader in Art Tile Murals Markets since its inception in 2005 and has been developed the best qualities of "Art Tile Murals" throughout Australia and the world-wide Markets.
Fountain Ceramic Mural is an Australian owned manufacturer, specializing in printing photos and fine art on Ceramic, Porcelain, Acrylic, PVC, Solid Materials and also, making Unique Art Deco Water Feature Fountains. We can reproduce any photos or fine art on a tiled wall, by using professionals and collaboration with the client, that dream decor can be realized. You may supply us any of your own images, and include any designs. We at Fountain Ceramic Mural are committed to unwavering dedication to open discussion to fulfil our clientele's DREAM decor and design needs.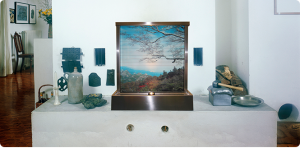 Ontime Delivery

Simple Ordering Procedure

Work Guarantees
Our products are SPECIALLY MADE & UV PROTECTED strong resistance to acids and chemicals such as acetone.
Custom Designs & Sizes Can Be Made
If we don't have what you want, we can get it for you. Or create it. We can confidently guarantee that you will not be regretted.
Request a quote and we will be happy to discuss in more detail your requirements.